Projects
Below are some of Swetronics ongoing projects.
Range Finder Assistance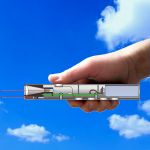 The Range Finder Assistance is a virtual cane that uses laser light to measure the distance to obstacles. The distance is feedback to 5 vibrating micro motors with different vibration intensity. The distance is measured at a high sampling rate, 1000 times/s, which results in a very rapid and sensitive feedback..